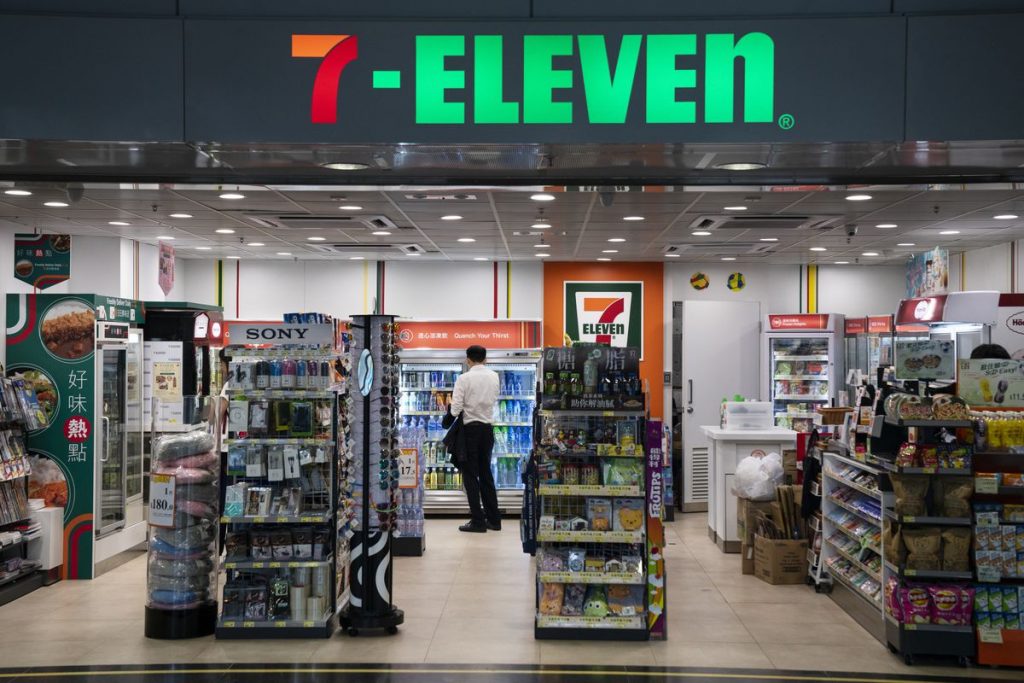 7 Eleven
Based in Dallas, Texas, 7 Eleven is a subsidiary of the Tokyo-based Seven & I Holdings. It is a renowned brand primarily known for revolutionising modern-day convenience stores. What's more impressive is that it is an ever-growing chain with more than 71,100 convenience stores worldwide, and every three and a half hours, it adds a new store to its operation worldwide. 7 Eleven is a brand that faced bankruptcy during the Great Depression but emerged as a successful convenience store chain in modern times.
7 Eleven has grown from a very humble background; it started as an ice company in the year 1927 and sold milk, eggs and bread in a single place. The retail giant now operates in 17 countries all over Europe, Asia and Japan. Initially, it was called Tote'm because customers toted away their purchases. In 1946, this name was changed to 7 Eleven, which depicted the brand's new, extended hours, 7:00 am to 11:00 pm, seven days per week.
7 Eleven is known to have a legacy of a wide range of innovations, from being the pioneer in 24/7 running stores to-go coffee cups and self-serving soda fountain. The brand is also known for Slurpee beverage, the Big Bite and Big Gulp beverage cup. It was also the first convenience store to sell gas and offer ATM services. You can also pay your aid, cable TV, E-Commerce, internet, loans, insurance, banks and tuition bills.
7 Eleven has a very catchy slogan, which the brand has been using for more than 50 years, "Oh Thank Heaven for 7 Eleven." The slogan describes 7 Eleven as the ultimate place for all your needs.
In 1964, the company began franchising its stores. 7 Eleven is consistently ranked in the top 5 for the support and efficient franchise model they provide to their franchisees. 7 Eleven is known to provide every possible guidance and aid to its franchisees. Also, unlike other franchises, 7Eleven shares its profit with franchise owners.
7 Eleven has stores in India i.e. franchise agreement with Reliance Industries, Tokyo, Singapore and Hong Kong. In Europe, the first 7 Eleven stores were opened in Stockholm. In Denmark, it has more than 180 stores at present. In Spain, a 7 Eleven store can be easily found inside Respol petrol station. Even the United Kingdom has more than a hundred 7Eleven stores. Currently, the brand is focusing on expanding business in Greece, Italy, Romania, and Bulgaria by 2023.
7 Eleven supports more than 50,000 employees worldwide as well as it is known as a sustainable brand. Since it is at the top of the convenience store chains, it has a significant impact on communities worldwide. They aim to support the local communities, provide better quality goods to their consumers, and focus on using their position to save the planet. Their goal is to shift to eco-friendly packaging of 50% of their products by 2030, and 40% reduced CO2 emission by 2027.
Now the question is, what makes 7 Eleven stand out from its competitors? The answer is straightforward the availability of goods in a single place and extended opening hours make 7 Eleven different from others. Several stores operate 24/7 for 365 days. No matter where you are, you're not very far from a 7Eleven store, especially in Japan. One can find a 7Eleven store in places like malls, airports, colleges, train stations and transportation hubs, hotels, stadiums and more. In certain areas, it offers the experience of hanging out rather than the concept of convenience stores itself. The brand has reached heights because of constantly evolving demographics which means they study every aspect of a site before buying it to open a store, they never keep a store that's not profiting, and lastly, they analyse what products are purchased at what time of the day in a high-traffic store.
7 Eleven has a vision of being the best retailer of convenience in the market and is emerging as the same. It has a mission of making daily life easier by providing all the necessary items under a single roof. The core values like teamwork, integrity, reliability, customer focus and data-driven allow 7Eleven to stay at the top even after 94 years of its establishment. 7Eleven is a brand that adapts itself as per the needs of its customer. It has strengthened its roots in the international market by adapting to the local culture.
Share it on Social Media: