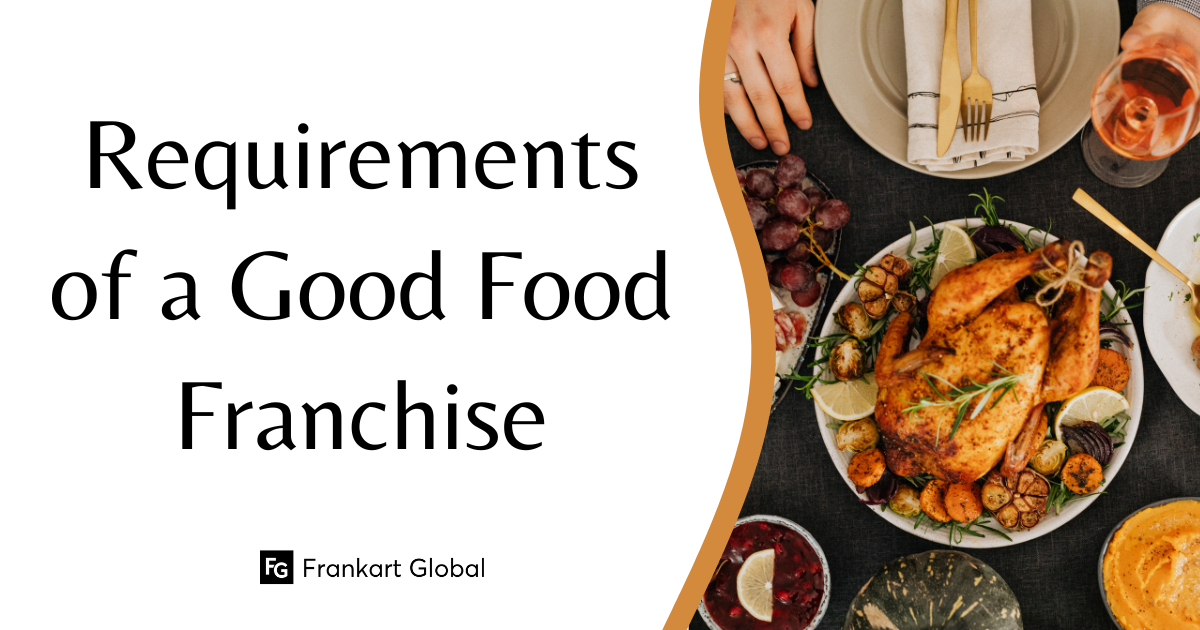 Requirements of a Good Food Franchise
Opening a food franchise can be a lucrative business opportunity, but it requires careful consideration and planning. The success of a food franchise largely depends on selecting the right franchise and meeting certain requirements. In this blog post, we will discuss the key requirements for a good food franchise.
1. Strong brand recognition and reputation
One of the most important requirements for a good food franchise is strong brand recognition and reputation. Consumers are more likely to visit a franchise that they recognize and trust. Therefore, it is essential to choose a food franchise with a well-established brand that has a positive reputation in the market. Researching the brand's history, customer reviews, and industry rankings can help you assess the reputation of a food franchise. Furthermore, strong brand recognition also means that the franchisor has invested significant resources in developing the brand, including marketing, advertising, and promotions, which will ultimately benefit your franchise location.
2. Proven business model
Another critical requirement for a good food franchise is a proven business model. A proven business model is a blueprint for success that has been developed by the franchisor over time. It outlines the operational procedures, marketing strategies, and other key aspects of running a successful franchise. When considering a food franchise, you should assess the franchisor's track record and evaluate the performance of its existing franchisees. You should also review the franchisor's training and support programs, which can provide valuable insights into the effectiveness of their business model.
3. Training and support
A good food franchise should offer comprehensive training and ongoing support to its franchisees. Proper training is essential to help new franchisees understand the operational procedures, management practices, and customer service standards of the franchise. It can also help you develop a better understanding of the food industry and the market trends. The franchisor should also provide ongoing support, including marketing assistance, operational support, and regular communication with the franchisee. The franchisor should also provide a support system to help franchisees resolve any issues or challenges that may arise.
4. Site selection and real estate
The location of a food franchise is critical to its success. A good food franchise should provide site selection support to its franchisees, including demographic analysis, traffic analysis, and market research. The franchisor should also have a thorough understanding of zoning laws, building codes, and other regulatory requirements that may affect the selection of the site. The franchisor should also assist the franchisee in negotiating and securing a lease for the location. They should also provide guidance on the design and layout of the restaurant to ensure that it is functional, efficient, and attractive to customers.
5. Financial requirements
Starting a food franchise requires a significant financial investment. A good food franchise should have clear financial requirements and provide detailed information on the costs associated with opening and operating a franchise. This may include franchise fees, royalties, advertising fees, and other expenses. The franchisor should also provide financial projections, which can help the franchisee assess the potential profitability of the franchise. They should also provide guidance on financing options and assist the franchisee in securing financing.
6. Quality products and suppliers
A good food franchise should offer high-quality products and have reliable suppliers. The franchisor should have strict quality control standards and provide training and support to ensure that franchisees can maintain those standards. The franchisor should also have  established relationships with reputable suppliers, which can help franchisees secure reliable and affordable sources of ingredients, equipment, and other supplies.
7. Strong franchisor-franchisee relationship
Finally, a good food franchise should have a strong relationship between the franchisor and franchisees. A strong franchisor-franchisee relationship is built on trust, communication, and mutual respect. The franchisor should provide regular communication, feedback, and support to its franchisees. They should also be responsive to franchisee concerns. In conclusion, food franchising can be a lucrative and rewarding business opportunity for entrepreneurs looking to enter the food industry. Franchising offers a proven business model, established brand recognition, and ongoing support and training from the franchisor. However, it's important to thoroughly research and evaluate different franchising opportunities, consider the financial investment and potential return on investment, and carefully review and negotiate the franchise agreement before signing. With the right combination of due diligence, hard work, and dedication, foo franchising can be a successful path towards achieving entrepreneurial goals and building a profitable business.
Share it on Social Media: