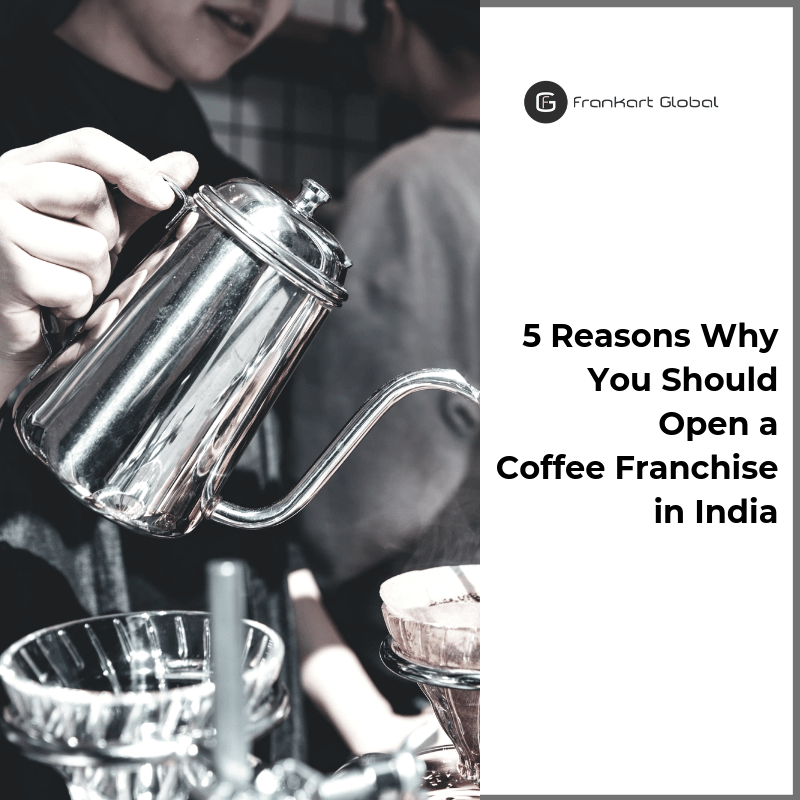 5 Reasons Why You Should Open a Coffee Franchise in India
Coffee chains and cafes constitute a large share of the F&B industry. Coffee houses like Starbucks. Gloria Jeans, Costa Coffee, and the Coffee Republic are hugely successful because of the brand that they have cultivated and the relaxed ambiance they offer their customers. Starbucks, for instance, could easily be mistaken as a library serving coffee. With so many Gen Z and millennials preferring to work, study and hang out at coffee chains like Starbucks, it has become deeply ingrained in our lifestyle. It has become an indispensable part of our culture.
In short, coffee chains offer more than just good coffee. However, there is intense competition in this segment, and established coffee franchises in India often have to compete with independent coffee houses and cafes. This has forced entrepreneurs and chefs in the industry to innovate and engage with their customers proactively continually. While one might want to dismiss the coffee culture as an American fad, the fact is that the market is exceptionally ripe in India as well. According to one estimate, more than half of Indians regularly drink coffee from cafes.
The rapid influx of international brands like Starbucks, Dunkin Donuts, and Cafe Mocha has further fuelled the consumption of coffee, by introducing us to global menus. What's more, the demand for coffee on the go is rising. Over 80% of coffee drinkers drink coffee at home or work. Taking note of this trend, an Indian coffee start-up, Blue Tokai enables coffee lovers to buy coffee online and have it delivered to their doorstep. Seeing as India is among the top 10 countries that produce coffee, it is not surprising to see so many Indian coffee startups spring up.
All these numbers suggest that the coffee house and cafe business is an attractive opportunity for investors and businessmen. The multicultural, fast-paced development in India is an indicator that the number of coffee drinkers is on the rise along with rapid growth in the coffee and cafe industry. If there were an auspicious moment to invest in a coffee franchise in India, it would be now. Several coffee houses have also resorted to the coffee franchise model in order to quickly expand in India. The list includes Costa Coffee, Brewberry's Cafe, Starbucks, Cafe Coffee Day, and Georgia Coffee among others.
Why you should open a coffee franchise in India
Small Space | Big Profits
Sustained growth | International Exposure
Easy access to talented personnel | Training Support
Brand awareness | Marketing support
Room for creativity | Networking opportunities
The booming coffee franchise industry, provision of a well-established business model, and room for creativity – there are several reasons why you should consider investing in a coffee chain. Here are the top five of them:
Small Space | Big Profits
A coffee house does not require a space to operate; the vending machines are incredibly compact, and even with add-on items, they can easily be installed in a small area. Given that most people like to drink their coffee on the go or while commuting, you need not have a vast seating arrangement either. When put together, these factors mean that you save a lot on your real estate rent or purchase. Furthermore, since you are investing in a proven business model, the breakeven time is shorter and you get access to a loyal customer base as well.
Sustained growth | International Exposure
According to a report by Deloitte and FICCI, the per capita income in India is expected to increase to Rs 2, 66,500 by 2025 with discretionary spending increasing up to 45%. The economic growth in India and the rise in disposable income are driving healthy consumption. Today, Indians in metro cities don't think twice before spending Rs 200-400 on a single cup of coffee. With several international chains expanding in India, Indians are not afraid of trying global cuisine and new products or services. The international exposure also means that Indians will have fewer qualms paying higher prices for a great ambiance, decor, and of course, excellent coffee.
Easy access to talented personnel | Training Support
Learning how to operate a coffee vending machine isn't rocket science, and it is easy to find trained and cost-effective staff to manage the counter. Since a good team helps a business succeed, investing in a coffee franchise in India will not have you sweating bullets trying to find the right person for the job. You could even hire someone with little to no experience and have them ready for the opening day in less than a week. What's more, most coffee franchise companies in India offer robust training as well.
Brand awareness | Marketing support
What draws so many people to invest in a coffee franchise in India is the fact that there is no need to build a brand from the ground up. The brand value, awareness, and recognition – all business essentials – are present from day one. As mentioned earlier, this helps in saving costs that would otherwise be spent on customer acquisition and marketing. This loyal customer base means that you can have a healthy footfall from the day you start operations.
Buying into a coffee franchise also means getting critical marketing support. The fee that a franchise owner has to pay includes the cost of marketing and advertising. This means that the franchisor regularly runs promotional campaigns and helps you attract customers, thus, helping you save time and effort and channeling it into running your coffee house better.
Room for creativity | Networking opportunities
In nearly every established franchise model, there is often little room for creativity. However, with a coffee franchise, you get much more flexibility. This is why no two Starbucks are the same. When it comes to ambiance, decor, and style management, you have comparatively more freedom and control over how you want to run the business. If you want to add a dash of creativity to your business, a coffee franchise should be at the top of your list. This is also an excellent opportunity to connect and give back to the community. Apart from that, owning a franchise can also help you grow your network, socialize and get involved in the locality.
Questions to ask yourself before opening a coffee franchise in India
Now that you know why a coffee franchise in India is a brilliant business opportunity let's focus on what you need to know before signing an agreement with your franchisor. Here are four of the most important aspects you should carefully consider:
Do you know the customer?
Understanding the core customer base is essentially one of the most important things that a coffee franchise owner can do to thrive. Starbucks and other well-known international coffee chains initially faced resistance in the Indian market for a straightforward reason – they didn't have ample time in understanding their customers. What works for the US or European market doesn't necessarily work in India. The 'Indianization' or the art of conforming to the Indian market is crucial for a coffee chain in a country where tea drinkers make up the majority. How do you get someone to buy an expensive cup of gourmet coffee when they are already content with the readily available and much cheaper 'filter coffee'? Do you know what kind of coffee most Indians drink or what they like to eat with their coffee? What is the average age of your customer base? What sort of professions are they engaged in?
These are some essential questions that you should have the answer to before you think of investing in a coffee franchise in India. It is also a good idea to throw open the floor for feedback with a market study and dive deep into its insights in order to know your customers.
Are you willing to automate?
From the PoS machine to online marketing, you should be open to automation in order to cut back on costs and improve your efficiency. The explosive growth of digital services in India has encouraged a cashless and paperless economy, and you need to be considerate of this trend. Not only does having helpful technology in the coffee shop help your efficiency but it also improves the customer experience, thus, building customer loyalty. This also includes having free Wi-Fi, an adequate number of charging points, and support for wireless charging.
Do you have the right location?
What may work in a metro city may not be successful in a non-metro city in India. This is in regard to pricing, ambiance, and the menu. You may want to assess several locations before settling on one. Although a location with a high footfall will help your business, it is important to remember that coffee isn't usually an impulsive purchase. Working professionals and groups of friends who drop by your coffee house would do so for what you offer in terms of the food, services, ambiance, and experience. So, if you can commit to serving a unique coffee experience, it does not matter where your store is and customers will come to you.
Can you offer a compelling customer experience?
As established earlier, customers go to a coffee house for more than just their daily dose of caffeine. It is also a place where important meetings take place, study groups meet or friends hang out. This is why your coffee shop needs to feel welcoming, trendy, and casual. You want to draw people in with the decor and keep them coming back for more. Right from the minute a customer enters till they are served their coffee, you need to ensure that the customer experience is seamless.
The over-the-counter service is also an integral part of the same. The person behind the counter must be courteous, friendly, and knowledgeable and help the customer make a decision, particularly if the menu is extensive or has unheard-of global names. A technology-first approach can also help to improve the experience by allowing customers to order beforehand and pick up their order at the counter or order from their table. No matter what you decide to include, make sure you have a unique value proposition and that you give your customers no reason to visit your competition.
Are you ready for your first coffee franchise?
Armed with this knowledge, you should now be able to discern which coffee franchise in India offers the most flexibility, higher profit margins, and the right support and training. While you pick out the right franchise to invest in, also spend some time and visualize how you would like to run the business and the unique value proposition you can bring to it. In case you want further assistance in answering any of the questions mentioned above, consider consulting a franchise solutions partner, like Frankart Global. We offer a wide range of franchise services, including, legal, financial, and real estate services to budding investors and entrepreneurs. Please fill out the Investor Query Form, and we'll get back to you.
Share it on Social Media: