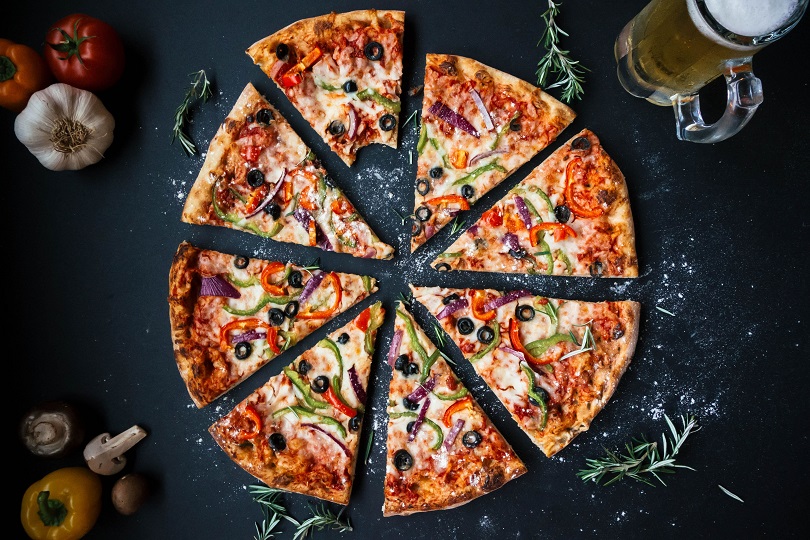 Starting a Pizza Franchise Business: Your Road to Success
According to Genevieve Thier's essay, The History of Pizza, this tangy, savoury dish's origin goes back to 500 B.C. Although pizza has evolved significantly since, in its preparation methods and ingredients, pizza in its true essence – flatbread, sauce, cheese and toppings – is one of the most loved delicacies in the world. The way pizza has adapted to the tastes and ingredients of different geographical regions is what makes it a truly global food. 
The Indian market is no different and has welcomed this iconic dish with open arms. Over the past decade or so, outlets such as Domino's and Pizza Hut have created a sort of cult following among the Indian youth. However, the journey of pizza from an Italian delicacy to become a go-to dish for Indians wasn't that simple. Let's dive deeper into the origins, expansions, challenges and growth experienced by the pizza industry in India. 
The Pizza Franchise Industry in India 
Pizzas entered the Indian market during the mid-1980s and were considered just another savoury item to snack on. Since, pizza delivery services at the time were also limited in number, with Don Giovanni's being the only pizza delivery service in Calcutta and Nirula's being the primary go-to place for Delhiites, pizza was considered a side snack to indulge into and had not emerged as an option for lunch or dinner. 
It was only after Domino's and Pizza Hut entered the Indian market in the 2000s that pizza became a household name. These brands invested significantly in their menu innovation and played with different sauces, flavours and ingredients to appeal to the unique Indian palate. Paneer, soy, kebabs, butter chicken and even Kurkure toppings were all a result of these exciting innovations. Several vegetarian options were introduced to cater to India's vast vegetarian population as well. 
Most international pizzerias that have successfully adapted their menus with respect to the local tastes of Indian consumers are reaping the benefits of the nation's vast and loyal consumer base. As Bill Schreiber of Little Caesars, America's third-largest pizza chain, aptly says, "People just think that India is one huge market. But no. There's South, North, West and East and all have different tastes." Some major players in the pizza industry include Domino's, Pizza Hut, U.S. Pizza, Chicago Pizza, Papa John's, Smokin' Joe's Pizza etc. 
While Domino's and Pizza Hut have been in the Indian market for over two decades, other pizza brands are still relatively new to the market. However, these brands realise India's potential to become the next mega-market in the pizza industry and thus, are willing to invest in the brand's R&D to develop menus and portion sizes that can attract Indian consumers. 
The failure to invest appropriately in R&D and create innovative menus that are customized to the eating habits of Indian consumers is the primary reason why the American pizza chain like Sbarro and Australian chain Eagle Boys had to face several challenges. Sbarro, however, is now making a comeback to India, having learned from its previous mistakes and plans to expand rapidly in the next few years and endeavours to acquire a part of the Indian market with the right kind of products, price and positioning.
Why you should Open a Pizza Franchise Business?
As a dish, pizza is something that Indians have come to warmly embrace and love. Thus, eating a pizza will not go out of fashion in the foreseeable future. The pizza industry in India is rapidly expanding on the back of growing affluence and purchasing power in the country. Let's take a closer look at why investing in a pizza franchise is a prime opportunity for investors and businessmen: 
Easy to innovate menus
Unlike other food items like donuts or pitas, pizzas' experimental stage in India has long been over. It is now been accepted, normalised and is popular all over India. Despite being a widely popular food item, the possibilities of innovation in a pizza menu are endless and relatively cheaper and thus, easier to execute. Neither new equipment nor newly-trained staff is required. One can create a wide range of combinations of different varieties of sauces, cheese, toppings and even flour for the pizza base. Additionally, as a part of the franchise brand, a franchise outlet owner does not have to worry about the creative costs incurred to modify the menu & products, in response to the constantly evolving demands and needs of the consumers, as the franchisor usually invests in the same as well. 
Cost-effective labour
India is a nation with the largest youth population in the world, as a result of which we have relatively easier access to skilled, well-trained and cost-effective labour. With an enormous labour force of nearly 500 million people, it is not difficult in India to find labour that is best suited for the varied job roles in a pizza outlet. Another key advantage is the Indian workforce's familiarity with the English language, thus making it well-suited for catering consumers from different nationalities and cultural backgrounds.
Higher margins
If the preliminary steps of research about one's prospective franchisor are executed correctly, a pizza franchise can help yield enormous profits in the long run. None of the basic ingredients that go into the making of a pizza is expensive. Flour, water, yeast, cheese and toppings (most of which are nowadays sourced locally at wholesale rates) are all inexpensive items. The equipment required for making pizzas such as ovens are not much cheaper than industrial machines. Thus, if chosen the right franchise brand, a pizza franchise can give attractive returns from low-to-medium investment.
Compliance-friendly business process and set-up
The F&B industry is often under fire for not complying with hygiene and quality laws. However, one of the biggest boons of starting a franchise business is the immense support that comes with it – including in being compliant with the law. Since the existing work processes and production lines of franchisors are already compliant with the service and hygiene norms in the industry, the heavy-lifting has already been taken care of. 
High levels of customer loyalty
Pizza businesses understand that a customer's first experience is critical in creating a favourable brand image and cultivating loyalty. This is probably why Domino's and Pizza Hut have been enjoying healthy growth rates, and yet, there is room for new entrants to carve a space of their own. Although pizza is a universal dish that is enjoyed by children and adults alike, the youth has always been a prime target audience of the pizza business. With India being the home to the largest number of young people in the world, it isn't tough to understand why new and existing pizza brands feature predominantly young faces in their campaigns and promotions.
Check Out: Top 100 Franchise Business Opportunities in India
Things to Remember Before Opening a Pizza Franchise Business
Requirement for set-up
Before deciding to invest in a pizza franchise, it's imperative that the franchise owner is well-acquainted with the capital, space and other costs required for launching a franchise outlet. Firstly, there is an upfront fee that the franchisee pays to buy the rights to run a franchise outlet from the brand. Apart from this cost, other expenses include buying or renting a store, decorating the store, hiring and training the staff, purchasing equipment and uniforms for the staff, etc. There are also different franchise models that one can go for. A realistic idea of all these costs and technicalities is necessary before buying a franchise.
Seek advice from an expert
The pizza market in India is worth INR 3,500 crores and has been growing at a healthy rate, especially since the last five years. Although highly profitable, the pizza industry is also highly competitive. Before hiring a pizza franchise, it is recommended that you consult a franchise expert. An expert will be able to advise you on the best and most profitable brands in the market, help you negotiate a deal, connect you to existing franchise owners and offer you services suited to your business goals. Therefore, to make the best use of the growing interest and investment in the Indian pizza industry, it is important to discuss matters with an expert so that you can make a decision that you don't end up regretting. 
Set realistic expectations
This is by far the most critical consideration for prospective franchise owners and investors to keep in mind. The initial investment in a pizza franchise might seem a lot higher than the revenue or growth projections. However, a part of owning and running a business is to understand that the initial returns can be low and focus the bigger picture of the enterprise. Thus, understanding and evaluating the current and past trends of the pizza industry are crucial to figure out tangible goals for your franchise and to measure success. 
Understanding different models
There are often different types of ownership that a franchisor may offer. Some of the common options to choose from are a single-store franchise, multi-store franchises, area developer or master franchise. Before you decide to launch your pizza franchise business, it's essential to understand and evaluate the pros and cons of each kind. The type of franchise ownership that would be best for you also depends mostly on the amount of capital and time you are willing to invest in the business. For example, one can either benefit from being the owner of a pizza franchise and gathering experience before starting their independent venture or delve entirely into creating a multi-store franchise business to go all in. 
The secret to succeeding in India's complex, yet lucrative, market is to invest significantly in research and understand the local tastes, consider local health trends, and develop menus accordingly. Another critical factor to take note of is the extent of support that the brand is willing to extend. Eagle Boys, for example, offered significant support and funding, but only at the beginning of their launch in India. Their failure to provide continued financing to differentiate themselves from, and compete with, other pizza brands is what led the brand to collapse in India eventually.
Thus, when prospective franchisees are undergoing the process of deciding which franchise brand they should buy, it's important to fully understand the franchisor's vision and a concrete plan, customized specifically for the Indian customers.
Share it on Social Media: