How Apple Supports Women Entrepreneurs Through App Development
In their quest to help women-led businesses leverage technology to make a meaningful impact on their customers, Apple has launched a new Entrepreneur Camp India is brimming with the success stories of women. Women-owned businesses are highly increasing in the economies of almost all countries and technology has played a huge role in driving this.  There has been a lot of emphasis on harnessing the potential of technology to improve the lives of women across the globe. But not much has been done to facilitate the life of women in entrepreneurs through technology.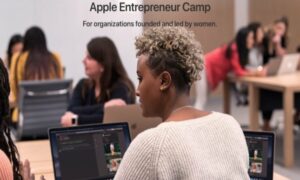 Encouraging more Woman
The app development space is traditionally dominated by men, but Apple is encouraging more women to participate with its Entrepreneur Camp.
Female entrepreneurs continue to face challenges obtaining funding, training and support. According to a study conducted, a woman in tech is leaving their field at a 45 per cent higher rate than men.
Despite such hurdles, woman-owned businesses are growing two times faster than average, with women-led tech startups delivering a 35 per cent higher return on investment than tech startups led by men.
Apple is ensuring that technology works better for the entire community, by providing support to women-founded and women-led businesses. This program will encourage, something tangible that shows that women are appreciated and valued.
Helping Woman Entrepreneurs
It is the first-of-its-kind initiative designed to create new opportunities for app-driven businesses owned or led by women through an intensive technology lab, specialized support and ongoing mentoring.
Tim Cook, Apple's CEO, said, "Apple is committed to helping more women assume leadership roles across the tech sector and beyond."
"We're proud to help cultivate female leadership in the app development community with the new Apple Entrepreneur Camp, and we are inspired both by the incredible work that's already happening, and what's sure to come," added, Cook.
Investing in Future
By this Entrepreneur camp, Apple will also gain some benefit from these diverse female-led teams. As the eligibility criteria for the program requires the app-driven businesses must be female-founded, co-founded or led and have at least one woman on the development team.
Gina Bianchini, investor and founder and CEO of Mighty Networks, said, "Apple wants to invest its expertise in a different, richer, more diverse range of app developers and product experts in a meaningful way, and that is a big deal for the industry."
Thank you for visiting our website. Stay connected with us for more knowledgeable things like this.
Share it on Social Media: