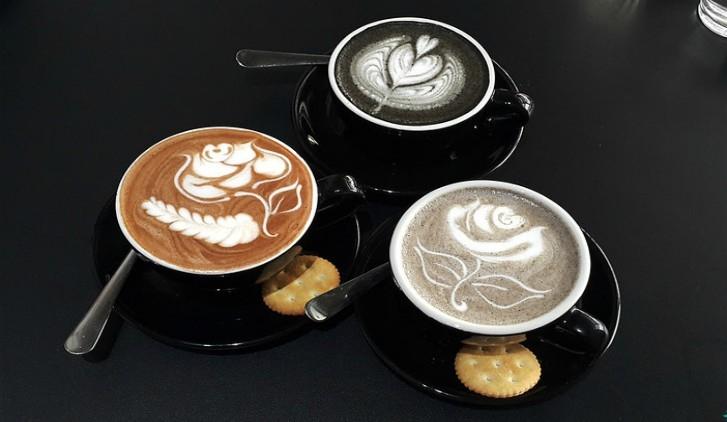 Three Lesser-known Coffee Franchises to Look Out For
Three Lesser-known Coffee Franchises to Look Out For
One fine day about 1200 years back, a group of shepherds noticed that some of their goats were acting weird all of a sudden. Some goats among the herd appeared to dance and jump as they moved around. It looked like they were full of energy, or on the cusp of being drunk. As they set out to find the cause for it, they found that these over-enthusiastic goats had been nibbling onto a special kind of berry, which the locals called Coffea.
Intrigued, they took the berries to a nearby monastery, where a curious monk decided to squeeze out its juices and make a beverage out of it. Much to his surprise, he found out that the drink kept him wide awake at night. A 'Eureka' moment later, the world had seen the advent of its most popular beverage, coffee.
When we talk coffee, we always discuss the big names. Starbucks, Costa, McCafe, and CCD, to name a few. Today, we'll talk about three lesser-known Coffee houses that are just as good as the hotshots when it comes to providing you a perfect cup of coffee.
Coffee by Di Bella
The Brain Child of coffee aficionado Philip Di Bella with a mission was to provide his customers with the products, tools, and the knowledge to make a perfect cup of coffee, always and every time, CBD was incepted in 2002 in Brisbane, Australia. The journey began in the form of a coffee roaster, and Philip working nights, going from door to door attracting customers. Since then, Coffee By Di Bella has come a long way and evolved into a full-service coffee company.
CBD takes the love of coffee to the next level. From a strong shot of espresso poured over dollops of vanilla ice cream sprinkled with chocolate, or a pot of latte served with Oreos and pretzels, to a swirl of edible gold dust sparkling on the surface of a steaming cappuccino, Coffee by Di Bella never ceases to surprise. And it is precisely this kind of innovation that has made Coffee by Di Bella such a success. As Australia's award-winning coffee company, it was among the pioneers of a global coffee culture, bringing together blends from the world's finest coffee growing regions.
The highly skilled departments at CBD are equipped to handle each stage of bringing the perfect cup of coffee. From sourcing and purchasing green beans; blending, roasting, packaging, and distributing the coffee to customers across the country; as well as providing services such as business development, technical support, and training.
The CBD website proudly proclaims, "For Coffee by Di Bella, there is only the future.", and it is the same spirit that fuels their endeavors. The enthusiasm and innovation that put Coffee By Di Bella on the map in Australia is making heads turn amongst the burgeoning Indian cafe culture. Currently it has 20 stores in Mumbai itself, with another 10 in the pipeline. A Pan India expansion plan featuring a 150-store strategy is already planned out, according to Rahul Leekha, Director of CBD India.
Aromas Café
Aromas is a leading Australian coffee chain established in Brisbane in 1982, and ventured into the Indian Market in 2009. With the idea of allowing people to meet family and friends, enjoy a business meeting or just relax in the ambience of the unique style of European Coffee houses, Aromas became an instant hit with its patrons. With an array of delicious coffees and exotic teas, Aromas offers customers an experience of simplicity with class. Also, about 60% of the menu has been Indianized to ensure not losing on the target customer base in India.
The Rainforest Alliance Certified range, a range of 18 original blends, as well as 18 Single Origin coffees make Aromas stand out from the other coffee brands. Not only does the coffee epitomize the freshness, quality, consistency & flavor that is carefully roasted into, but it also stands true to its commitment. Apart from that, the kitchen serves a range of delectable cuisine, specializing in Continental & Italian, along with a wide range of desserts.
With 11 existing functional retail outlets and 30 under construction, Aromas Café is planning on having a pan India presence in the next three years, with at least a hundred outlets (60 lounge & 40 cafes) across the nation.
How You Brewing?
Straight out of the sets from American television sitcom 'F.R.I.E.N.D.S', 'How you Brewing?' is a prime example of what happens when someone fuses their love with business. Started in Delhi's Lajpat Nagar, 'How You Brewing' is a warm & friendly café for the Gen-Y. Conceptualized on the theme of popular 'F.R.I.E.N.D.S.', the café ensures an everlasting experience for its patrons.
Playing around their obvious strength, everything in the café, from the décor, interior, furniture to items in the menu, is derived from the sitcom. So much so, that the café's name is also a play around from Joey Tribbiani's famous line from F.R.I.E.N.D.S. – 'How you doin'?'. The café offers a good variety of coffees brewing too with flavors like Hazelnut, Caramel, Irish and other classics.
In addition to the quintessential café food, the menu also offers cuisines like Italian and Continental, with a variety of shakes and teas, breakfast menu, salads, and pastas. While you wait for your order to come you can play board games, or try a hand at the famous foosball table of Chandler and Joey's apartment. With so many factors to keep into consideration, 'How You Brewing?' is a definite crowd puller, and has attracted the fancy of its target audience very well.
With a diverse menu, a well-established theme, a growing fan following, and a robust support team, 'How You Brewing?' has all the ingredients to become your successful cafe franchise. Currently it has outlets only in Delhi NCR, but plans to expand it further have been put into motion to make it a pan India café.
Share it on Social Media: