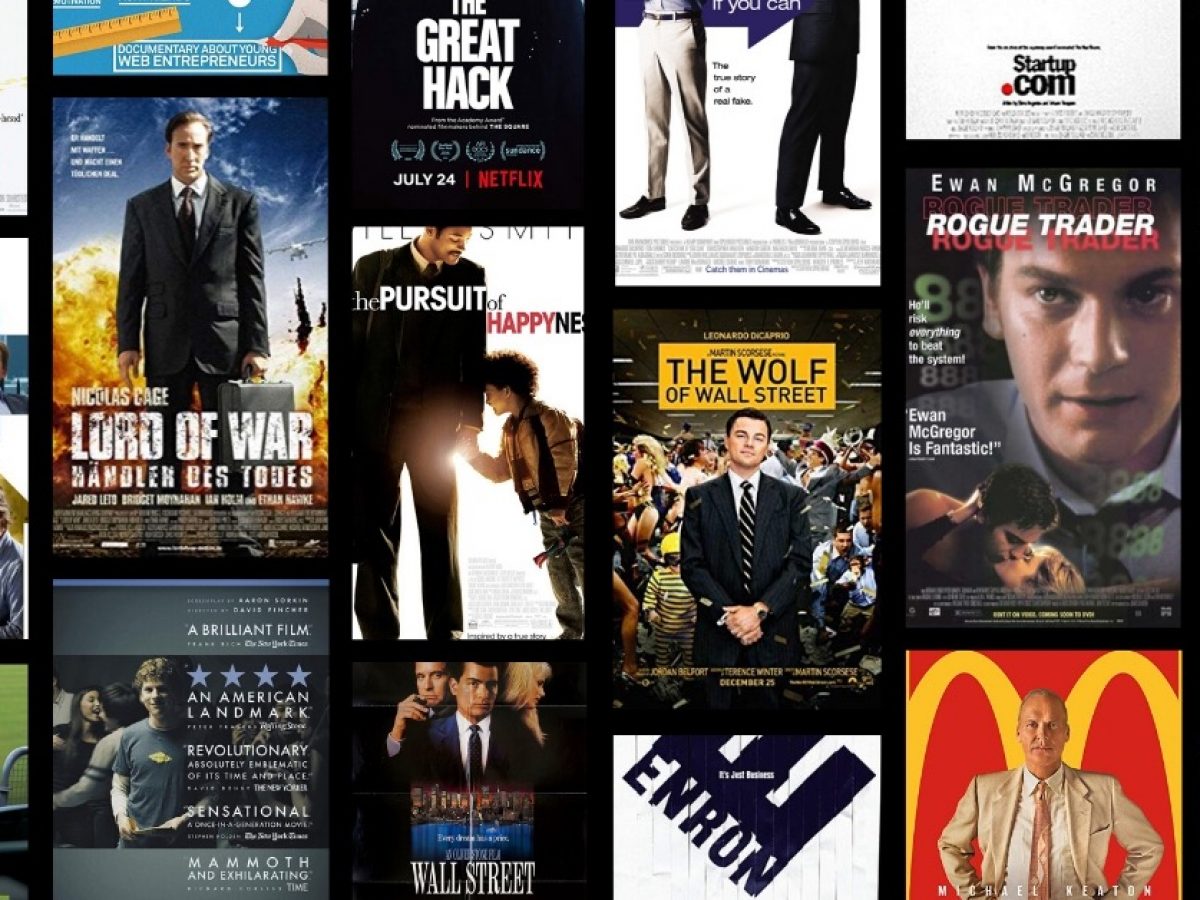 10 Best TV Shows and Movies to Fuel your Inner Entrepreneur
10 Best TV Shows and Movies to Fuel your Inner Entrepreneur
The 'Goodfellas'. The 'Money People'. The 'Hotshots'. Based on what cinema has portrayed, a career in the financial sector surely seems lucrative. It is, however, a gritty and laborious field. It is a goddess who can be very, very rewarding, or extremely harsh. Even with the loads of hard and smart work you put in; a single wrong step is enough to ruin it all. Making profits hand over fist is never easy, but in the end, that's what matters, or at least that's what silver screen tells us.
We are in an era that is witnessing some of the best works of art in the field of cinema. And the argument that successful people don't have time to watch TV is invalid. We all enjoy watching a good movies with friends, or binge-watching a series on weekends from time to time. Although time is something that we always seem deprived of, there's a lot we can learn about the might and the plight of finance professionals from the comfort of your couch. The best part about it is that we're getting to learn from them even as we enjoying the various plots.
The characters developed after intense research, the terminology and the phrases used in the 'market', the importance of little things that must absolutely be kept in mind… It all pans out to give us a thrill ride, while letting us have a long peek at the world of finances.
So, to quote Shakespeare, without much further ado, here's a list of TV shows/ movies you must absolutely watch to learn more about the corporate world.
Wall Street
IMDb rating- 7.4/10
A 1987 American drama film by Oliver Stone, starring Michael Douglas, Charlie Sheen, and Daryl Hannah, Wall Street had become a cult classic. It tells the story of Bud Fox (Sheen), a young stockbroker who becomes involved with Gordon Gekko (Douglas), a wealthy, unscrupulous corporate raider.
The movies subtitle "Greed Is Good" is a lesson in itself. Greed isn't good. Greed just makes you want more. When speaking of materialistic things, the quote applies quite aptly. However, greed in matters of relentless passion, in the form of knowledge and hunger to learn, as a way to constantly get better and achieving greater goals in life is GOOD.
Take-away line: "Greed, for lack of a better word, is good."
Billions
IMDb rating- 8.4/10
Billions is a complex drama about power politics in the world of New York high finance. In a plot straight out of a Jeffrey Archer novel, we find shrewd, savvy U.S. Attorney Chuck Rhoades and the brilliant, ambitious hedge fund king Bobby 'the Axe' Axelrod are on an explosive collision course, with each using all of his considerable smarts, power and influence to outmaneuver the other. And the stakes are in the billions in this timely, provocative series. With four seasons released and a fifth up for release, Billions is a finance professional's delight.
Billions has a lot to things to take away from, including the fact that we all need our confidence restored at times, and dreams never get too old to be realized.
Take-away line:  You get one life, so do it all.
The Wolf of Wall Street
IMDb rating- 8.2/10   
You cannot have missed this beauty. A biographical black comedy crime film by Martin Scorsese, based on the memoirs of Jordan Belfort, it recounts Belfort's perspective on his career as a stockbroker in New York City and how his firm, Stratton Oakmont, engaged in rampant corruption and fraud on Wall Street, which ultimately led to his downfall. Leonardo DiCaprio and Jonah Hill pull in the performances of their loves, starring as Belfort and his partner Donnie Azoff, with the vivacious Margot Robbie as playing Belfort's wife.
Wolf of Wall Street has a lot of lessons for both financials and cooperative and mutually benefited businessmen. The protagonist in the film is good to his employees leading to their trust, loyalty and mutual respect for him, something which is of utmost importance in the corporate world. Apart from this it tells how one must weigh what they are sacrificing for success. And lastly one must take life a little less seriously enjoying the journey just as it was meant to be. The fact that it manages to be a roller coaster of fun simply adds to its taste is one of the best movies for your Inner Entrepreneur.
Take-away line: "Pick up the phone, and start dialing."
Margin Call
IMDb rating- 7.1/10
C. Chandor's Margin Call is a must-have in this list. Based on real incidents, the plot follows a few key people at an unnamed investment bank during the early stages of the 2008 financial crisis. Set over a period of 24 hours, it showcases the actions taken by the bankers during the subsequent financial collapse. Boasting of a power packed cast in Kevin Spacey, Paul Bettany, Jeremy Irons and Zachary Quinto as the main leads, Margin call is probably the smartest movies you will ever see about the Financial Crisis. It tells people how not only physical but psychological factors too are responsible for a company's downfall. Margin call is one of the best movies to Fuel your Inner Entrepreneur.
Take-away line: "There are three ways to make a living in this business: be first, be smarter, or cheat."
Rogue Trader
IMDb rating- 6.4/10
An ambitious investment broker who singlehandedly bankrupted one of the oldest and most important banks in Britain. Need we say more? 'Rogue Trader' stars Ewan McGregor as Nick Leeson, the protagonist.
The film focuses on the fact that in most cases, a successful business cannot be achieved by a single person. It also shows that firms must follow a disciplined and logical investment plan to avoid huge losses. Leeson's mistakes could have been avoided if he had a well thought out trading plan. Rogue Trader is one of the best movies to Fuel your Inner Entrepreneur.
Take-away line: "I, Nicholas Leeson, have just lost 50 million quid, in one day!"
The Big short
IMDb rating- 7.8/10
Featuring probably the biggest ensemble of stars until the MCU took over, The Big Short is an Oscar winning 2015 American biographical drama film. The film stars Christian Bale, Steve Carell, Ryan Gosling, Brad Pitt and Melissa Leo among others, and is directed by Adam McKay. It is based on the 2010 book 'The Big Short: Inside the Doomsday Machine' by Michael Lewis, showing how the financial crisis of 2007–2008 was triggered by the United States housing bubble.
It describes the crucial role of analyzing all the pros and cons before investing in the market and how one must not become blind followers without doing their own homework. A thorough study and analysis of the wall street conditions is an added bonus.
'The Big Short' also has celebs like Selena Gomez and Margot Robbie explain financial terms to the audience in simpler ways, and hence becomes a must watch. The big short is one of the best movies to Fuel your Inner Entrepreneur.
Take-away line: "The creation of the mortgage bond market had extended Wall Street into a place it had never before been: the debts of ordinary Americans."
Shark tank
IMDb rating- 7.6/10
'Shark Tank' is an American business reality series premiered on August 9, 2000. Starring Kevil O'Leary , Barbara Corcoran, Daymond John, Mark Cuban, the show features a panel of investors called 'sharks', who decide whether or not to invest as entrepreneurs make business presentations on their company or product.
This show features real and successful venture capitalists investing their own money for business ideas they like, and is a really great place to learn about money matters and entrepreneurship. It showcases young entrepreneurs all the homework they have to do before facing an investor and various sorts of obstacles they have to face in order to achieve success.
Take-away line: "I'm not trying to make friends. I'm trying to make money."
The Profit
IMDb rating- 8.3/10
'The Profit' is an American documentary-style reality television show broadcast on CNBC. In each episode, Marcus Lemonis invests in struggling businesses along with his guidance in exchange for an ownership stake in the company.
Marcus demonstrates the importance of people in business, providing credence to the old 'people are the most crucial asset'. He also lays emphasis on product strategy and execution since it is the basis on which businesses make profit. Whether it might be a business tip, or a financial advice, 'The Profit' does not leave you at a loss.
Take-away line: "You don't get anything. You have to earn it."
Succession
IMDb rating- 8.1/10
'Succession' is an American satirical comedy-drama television series, created by Jesse Armstrong, and starring Hiam Abbass, Nicholas Braun, Brian Cox, Kieran Culkin and Peter Friedman in the lead roles. It is a family drama centering around the fictional Roy family, owners of a huge media firm who are fighting for the company rights after the head of the family steps down.
Succession aptly plays out the 'behind the scenes' drama of a family business. It reflects the decaying media empire and provides lessons regarding what must be avoided to prevent the downfall of a family business which includes trusting your people, keeping enemies closer than friends and laying out a proper succession plan.
Take-away line: "Here's the thing about being rich. It's like being a superhero, only better. You get to do what you want. The authorities can't really touch you. You get to wear a costume, but it's designed by Armani and it doesn't make you look like a jerk."
Mad Money v/s Jim Cramer
IMDB rating: 5.7/10
My personal opinion is that IMDB rating does not do justice to this reality show by Jim Cramer. The set is a wild ride full of fun accessories, Cramer's portrayal and mannerisms are a beauty, and the anecdotes, tips and strategies are a success. For investors to aspiring investment bankers, this show is a sure shot add on to their watchlist.
Take-away line: "I wish it grew on trees, but it takes hard work to make money."
With this list, the aspiring finance professional in you is all set with things to watch this weekend. Suspense, thrill, crime, wits. You name the emotion, and you'll feel it with these blockbusters. And you'll also have loads of fun while at it. And while these movies' target audience may be prospective financials, people who are not thinking of finance as a career, can also glimpse inside the racy, wild and sometimes absurd universe of big money. We have something or the other always coming up that makes us wonder what it would be like to be in their shoes, and we guess you sure get an insight into it.
Share it on Social Media: